I have a strong commitment towards education as I believe this is the single most important investment we can make in young people and therefore the long term future of London and the UK.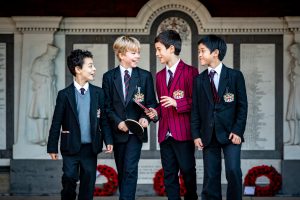 I am a governor of the City of London School and I am its immediate past Chairman.  I have also sat on the boards of governors of a number of other schools.
The City of London School was named as London Independent Secondary School of the Year 2020 by The Sunday Times which said about the School:
"A ranking in the top 20 nationally represents an academic high point for City of London School in recent years. But the school is about so much more than academic success. In an era when independent schools often find themselves under fire for being bastions of privilege and entitlement, City of London is a beacon for social mobility, its students recruited from across the capital and reflective of its social and racial diversity.
"Boys are taught to be Kind and a five-year strategy document enshrines this word alongside Ready and Aware as the three pillars on which the school aims to found its future success. Our award recognises this approach alongside a long-standing record for academic achievement, which reached new heights with the publication of this summer's examination results."
The City of London School aims to welcome talented boys from a diversity of backgrounds into a tolerant, harmonious community in which they achieve the highest academic standards, make full use of their potential, and develop towards responsible adulthood.
Further details of the school can be found by going to the City of London School website.
I also sat on the Development Committee of Oriel College, Oxford University for some 12 years where I am a donor and support the fund raising efforts to supporting students and teaching at Oxford University. Oriel has a fundraising target of £75m by 2026.
Further details of the 2026 Campaign can be found following this link.