On 23rd March 2017 City-wide elections were held for the 100 elected Members that form City Corporation's main Court of Common Council.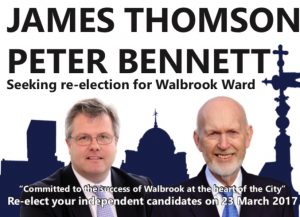 I stood for re-election as Common Councilman for the Ward of Walbrook, together with Peter Bennett and we were both successfully re-elected in a contested election:
– Peter Bennett – 123 votes
– James Thomson – 113 votes
– Lady Xuelin Bates – 81 votes
Peter and I are honoured to serve the Ward of Walbrook and thank our voters for their support. Please follow this link to our joint aims and objectives.
Regardless of your vote, we stand as your representatives and your input is invaluable and we want to hear your views and issues: we are here to serve and help you in the City. Please follow this link on how to contact me.
Please follow the link to Peter Bennett's contact details.
City Matters published an article on the City Elections that describes a little bit more about the elections and democracy in the City.  It can be found by following this link to the article.
For further information on registering as a voter or becoming in involved in elections in the City of London, please click here.