On 23rd March 2017 City-wide elections were held for the 100 elected Members that form City Corporation's main Court of Common Council.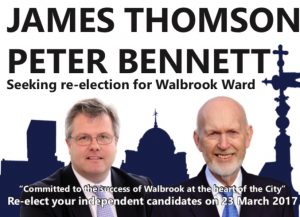 I stood for re-election as Common Councilman for the Ward of Walbrook, together with Peter Bennett and we were both successfully re-elected in a contested election:
James Thomson – 113 votes
Peter Bennett – 123 votes
Lady Xuelin Bates – 81 votes
City Matters published an article on the City Elections that describes a little bit more about the elections and democracy in the City.  It can be found by following this link to the article.
For further information on registering as a voter or becoming in involved in elections in the City of London, please click here.