Peter Bennett and myself were recently re-elected as your Common Councilmen for Walbrook Ward.  Our joint aims and objectives are set out in our election leaflet below.
One of the biggest issues facing the Ward of Walbrook is the closure of Bank Junction which started on 22 May 2017.  The City of London through it's All Change at Bank Project is looking at how this can be improved.  We would like to see better access for licenced Hackney Carriages (Black Cabs).  For further details please see the page on the Walbrook Ward website.
Please also see my personal commitments to you which I made in 2013 and continue to deliver on.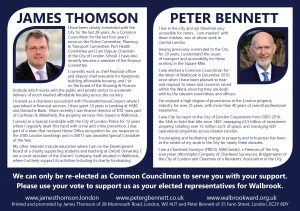 Please explore this website to find out further about me and my aims, objectives and activities by using the menu.
Additionally, you can find out more about Peter Bennett by following this link.