I am a non-executive director and was until recently Chief Executive of Keepmoat Homes the national market leader in affordable housing.
Prior to sale of Keepmoat Regeneration in April 2017 Keepmoat had some 3,300 employees, turnover of c.£1.1bn and EBITDA of c.£67m. Click the following link to see a video clip of what Keepmoat does.
I joined Keepmoat in 2012 as Chief Financial Officer becoming Chief Executive of Keepmoat Homes in 2017 following the sale of Keepmoat Regeneration to Engie for £330m. In February 2019, following a successful refinance and a fourfold growth in the business, I stepped down to become non-executive.
Following the sale of Keepmoat Regeneration, Keepmoat's principle business is Keepmoat Homes, building houses for open market sale with an average house price of £150,000.  Two thirds of our homes are sold to first time buyers with our typical buyer being under 35 and with an average income of £26,000. We also build homes for the corporate private rented sector (PRS) and for housing associations for affordable rent on a tenure blind basis. In the year to March 2018, we built and sold over 3,700 much needed high quality affordable homes and in the current year we are looking to deliver over 4,000 new homes making Keepmoat the leading builder of quality housing in the UK for first time buyers.
The vast majority of our homes are built on brownfield land and in partnership with local authorities, the Homes and Communities Agency, housing associations and other land owners. In doing so we regenerate the areas in which we build and we share the benefits with our partners: Building Communities, Transforming Lives.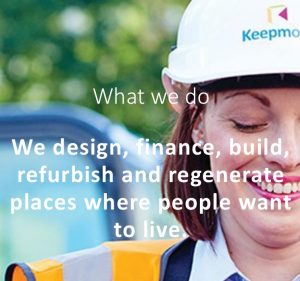 Keepmoat was acquired by TDR Capital and Sun Capital Partners as part of a £400m management buyout in September 2014 supported by a £263m public bond.
For further details on Keepmoat, please click on this link.