I serve as a non-executive board member of the Housing & Finance Institute (HFI).
Both Keepmoat and the City of London are founding members of the HFI.
The City of London has the building of affordable housing as one of its key priorities and is committed to building 3,700 much needed new homes by 2025.
The HFI is an accelerator hub that works with industry and public sector partners to increase housing supply, encourages councils and businesses to work together to build more homes and promotes new ways of financing and delivering the new affordable homes that the UK needs.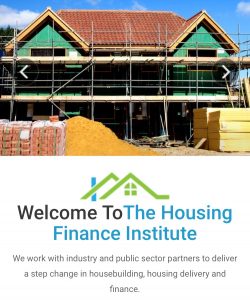 Specifically the HFI:
Supports councils increase housing supply through new partnerships and finance models
Supports new and smaller businesses along with established businesses with an appetite to do more
Develops skills, capacity and relationships
Improves the understanding of development finance and risk
Promotes new business and finance models, techniques and methods for housing delivery
Identifies and promotes development opportunities
Assists with problem solving role across local government, central government and businesses
Further details of the HFI and its work and activity can be found by clicking this link.